The Volunteer Income Tax Assistance (VITA) program through United Way of Kenosha County, Kenosha County Job Center and community partners, provides free, quality tax preparation from IRS-certified preparers to individuals and families earning up to $58,000 annually. 
Our VITA program helps taxpayers access qualifying tax credits such as Child Tax Credit, Earned Income Tax credit, the Wisconsin Homestead Credit and more. 
During the past 13 years, volunteers have helped hard-working Kenosha families walking a financial tightrope receive more than $21 million in qualifying tax credits and refunds!
---
2022 Tax Season Information
Thank you for an amazing 2022 Tax Season. Volunteers from our community assisted 877 taxpayers with 1690 federal and state returns. Because of their time and commitment, $1.6 million in refunds were returned to our community. We hope to see you again in 2023!
Come back soon for 2023 tax season information
We Need Volunteers!
Help your community by volunteering a few hours per month to prepare taxes for those unable to afford it.
No previous experience is necessary!
Complete the Volunteer Application and the Background Check Form today!
Receive free training to become an IRS-certified tax preparer. Other volunteer opportunities are available in language interpreting, financial education, intake specialists, and client registration.  
If you have any questions, want to volunteer or need tax assistance, please contact Rita Nicholson, VITA Program Coordinator, at RNicholson@kenoshaunitedway.org.
or call (262) 658-4104. 
Below you will find additional resources to be used when filing your taxes as well as stories showcasing VITA's impact. Check them out:
Click here to view the "How to Prepare Your Taxes From Home" Instructions
Visit Myfreetaxes.com to file your tax return for free if your household earns under $73,000.
Click here to visit the IRS Non-filer Advanced Child Tax Credit Portal and learn more about who can use it.
---
Here's how VITA Helps Our Community:
            Click here to hear how the VITA program helped Pam.
            Click here to learn how VITA helped Cristabel.
            Click hear to hear the story of Kim.
---
For questions and additional assistance, contact unitedway@kenoshaunitedway.org or call 262658-4104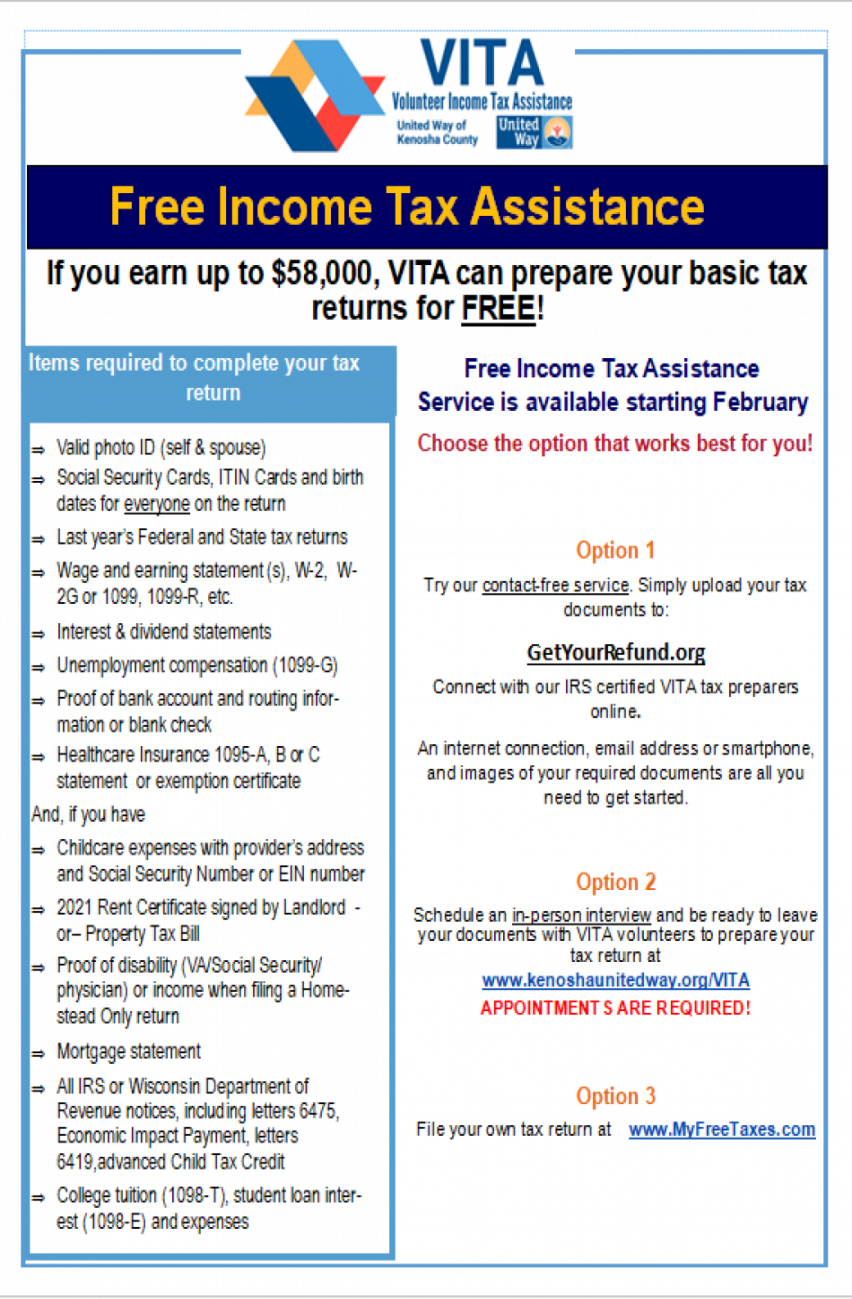 Don't pay to file your taxes.  If your household earns less than $73,000 in 2022, you can file your federal and state tax returns for free using MyFreeTaxes.com.  This is the only free, national, online tax filing product offered by a nonprofit.  United Way has made this available as part of our fight for the financial stability of every person in our community. 
MyFreeTaxes is completely free for individuals and families who've earned less than $73,000 in 2022 - whether you file in multiple states, work freelance, have a side gig, or earn investment income.  It is powered by H&R Block's premium software, so filing is easy, secure, and guaranteed to be 100% accurate.  The software scans for any tax credit your entitled to, making sure you get your maximum refund.  If you have questions along the way, IRS-Certified specialists are ready to answer your questions in real time. 
Since 2009, over 950,000 Americans have successfully filed using MyFreeTaxes.
►FILE YOUR TAXES ONLINE FOR FREE!