March 13, 2022 (Kenosha, WI) — United Way of Kenosha County (UWKC) is teaming up with Leadership Kenosha for 100 Years, 100 Volunteers: A Day of Service on Saturday, April 1, 2023. Volunteers from across Kenosha County are invited to come together in celebration of United Way's 100th anniversary of mobilizing the caring power of our community.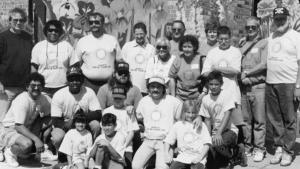 The day will begin with a celebration and recognition of current volunteers while bringing awareness to volunteer opportunities in our area. Afterwards, volunteers will travel to a United Way Community Investment partner agency to complete a service project.
Service projects are available from 11 agencies in the Kenosha area. Projects range from organizing donations, putting together care packages for agency clients, to outdoor projects (weather dependent) like painting a sensory playground and grounds cleanup. Projects are available for all ages, and the event is a great opportunity for families to come out and volunteer in our community. Volunteers can register via the UWKC website. Information should be submitted by Wednesday, March 16 to guarantee receiving an event t-shirt.
"What an amazing opportunity this is for my Leadership Kenosha colleagues and I to partner with United Way of Kenosha County to celebrate 100 years with 100 volunteers," says Lindsey Buxbaum, IRIS Consultant with TMG and current Leadership Kenosha participant. "If you haven't experienced the positivity and joy of being in a room with individuals who are passionate about the same cause I highly recommend you try it - it's a feeling that's worth experiencing! There's nothing better than serving others - service is what life is all about!"
100 Years, 100 Volunteers: A Day of Service brings the Kenosha community together for the good of our residents and to address the needs of local nonprofits.
"Help United Way of Kenosha County celebrate 100 years of service," says Steve Hartfield, UWKC volunteer and Shalom Center board member. "Join me in participating in 100 Years, 100+ Volunteers: A Day of Service on April 1!"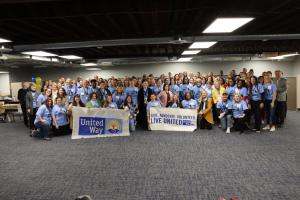 United Way of Kenosha County launched on March 29, 1923, by fifteen concerned citizens. Originally named Community Chest Association of Kenosha, the newly formed organization set out to meet local needs by enlisting the community's support. While the organization has gone through several name and brand changes, the ability to mobilize people to support the community's ongoing needs has lived on.
"United Way of Kenosha County recently hosted Read Across Kenosha, which was our first large-scale, in-person volunteer event since 2020," says Carolynn Friesch, Chief Executive Officer at UWKC. "We hope to continue the momentum and energy this event fostered. April 1 is going to be a joyous day of bringing our community together in service. We are excited to recognize and thank our partners for their ongoing support as well as to formally announce our 2023 Celebrate UNITED award winners."
During the event kick off, UWKC will recognize its 2023 Celebrate UNITED award winners, which includes:
Volunteer Partner of the Year: Snap-On
For generous team commitment of time, support, and inspiration to Kenosha County
Volunteer Person of the Year: Kahlil Griffin, Kenosha Public Library
For generous individual commitment of time, support, and inspiration to
Kenosha County Shining Star: Dyisha Smith, Ocean Spray
For initiative, enthusiasm, and support to the United Way Campaign
Live UNITED: Kenosha Unified School District
For being a longtime supporter of United Way and embodying how to Live United.
Spirit of Caring: Tamarra Coleman, Shalom Center
For "living" the spirit of United Way of Kenosha County during the annual fundraising campaign and throughout the year as a nonprofit partner
United Way of Kenosha County also thanks its event sponsors: Johnson Financial Group and Educator's Credit Union for their support of 100 Years, 100+ Volunteers: A Day of Service.
For more information, to volunteer, sponsor the event, or get involved in other ways, visit: kenoshaunitedway.org or contact Marisa Markowski at mmarkowski@kenoshaunitedway.org. Please note, the sponsorship deadline is Wednesday, March 16.