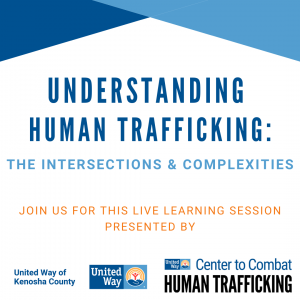 Human trafficking is a widespread and often-invisible crime that takes place both around the world and in our own backyards. It is the act of compelling someone into work or commercial sex acts through force, fraud, or coercion, and though it is illegal everywhere, it happens every day in big cities and small towns across the United States. Whether or not we recognize it, this is an issue we all touch every day through both our professional and personal lives.
On Tuesday, April 19, we hosted a Live Learning Session, Understanding Human Trafficking.
Fortunately, as a community, we are positioned to drive a powerful, unified strategy to combat human trafficking together. United Way of Kenosha County and United Way Worldwide's Center to Combat Human Trafficking are proud to have presented this Live Learning Session, Understanding Human Trafficking: The Intersections & Complexities.
This hour-long virtual event provided an overview of the issue of human trafficking, as well as information on how we can strategically and collectively combat it in our community.
Click the links below to access additional resources. Together, we can combat human trafficking.