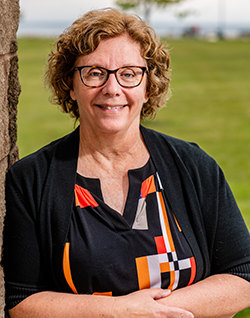 Today, we invite you to join us in congratulating Sherry Westoff on her retirement after playing an intergral role on the United Way of Kenosha County (UWKC) team for almost 20 years. In that time, Sherry showed others what it means to Live UNITED through here dedicated service to our community.
In her role as Finance Manager, some of her day to day responsibilities over the years included handling overall finances, managing budgets, accounting, coordinating other projects, completing the IRS 990, updating licensing, and filing donations .. and coordinating community services ... and, quite honestly, the list goes on.  In 2017, Sherry even led the Read Across Kenosha one-day literacy event! Sherry's knowledge, expertise, and high-spirits will be greatly missed.
"Never give up," says Sherry Westhoff, retired finance manager at UWKC. "You can do it. Always keep a positive mental attitude."
Sherry first started at United Way of Kenosha County in August of 2003. At the time, she was looking for a part-time job. When she saw an ad in the newspaper that UWKC was hiring, the rest was history. As one can imagine, Sherry has met and worked alongside many people over the years, but she notes how she always enjoyed working with her co-workers, who she says many are like a second family to her.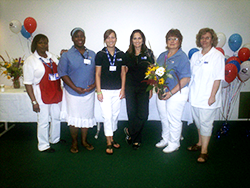 After almost 20 years, Sherry described United Way as a very warm and welcoming environment, which she still loves and appreciates. Sherry was always able to find a comfortable balance between her home-life and her work-life while on the UWKC team, which is one reason why she dedicated much of her professional career to being a United Way team member. For Sherry, working with United Way of Kenosha County was never just about a paycheck to support her family but more importantly about being a leader in the community and serving others.
Outside of work, Sherry is also a proud wife and mother of three adult children. Some of her favorite hobbies include crafting, making ornaments, helping with the silent auctions for her church, reading romance and suspense novels, going to garage sales, and traveling. Working with UWKC has helped Sherry be grateful for the opportunity to be able to give back to many people who need help and assistance in the community.
Join us in celebrating Sherry Westhoff who officially retired from United Way of Kenosha County in January 2023. As evident, she will be greatly missed by her team and community who she has helped so much during her 19 years at United Way of Kenosha County. We know, however, that Sherry will always be a part of the United Way of Kenosha County story.
While in retirement, Sherry has plans that are as simply put as, "Living her best life." She looks forward to spending more time with her family and friends, and of course, traveling. She also still plans to assist the team with tasks relating to the #Celebrate100 Centennial Jubilee and other required reporting. Sherry believes that potential employees should consider joining United Way of Kenosha County because it is a great way to make a difference in the community and become a leader.