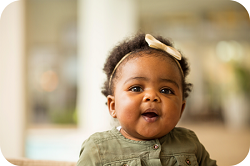 Our future depends on our youngest citizens. On how many words they hear in their first months of life. On how often they are held. On the kinds of experiences they have.
Yet even with business interests, scholars, and politicians on both sides of the aisle lining up to support the early childhood education cause, millions of American children are still not getting the care they need to succeed - or even to keep up.  And while it's the poorest children who are most vulnerable, middle class families are increasingly feeling the squeeze, as the cost of quality child care soars. So why, when the importance of quality early care and education is so widely accepted, do we continue to fail so many?
No Small Matter is a feature-length documentary film to explore the most overlooked, underestimated, and powerful force for change in America today: early childhood education. Through poignant stories and surprising humor, the film lays out the overwhelming evidence for the importance of the first five years, and reveals how our failure to act on that evidence has resulted in an everyday crisis for American families, and a slow-motion catastrophe for the country.
There are no screenings scheduled at this time.
Resources
Contact your elected officials at the local, state, and/or federal levels & tell them to invest in childcare.

To find out who represents you, their contact information, sample childcare talking
        points, and other advocacy resources at: wisconsinpartnership.org/advocacy-resources/
Parents and educators - stay updated on early learning resources in your area by signing up for Bright by Text: Sign up at bit.ly/BBTKenosha or text BADGER to 274448