Today, we would like to introduce you to Caroline Pratt, who Lives UNITED by rising above her personal setbacks to give back through dedicated volunteer work at United Way of Kenosha County as well as some of our community investment partners, including Shalom Center.
Caroline grew up in Kenosha County, where she learned that Kenosha's locals are a group of diverse, strong, and most importantly, united individuals, who band together when times get tough. Not only that, but she also grew up volunteering for various organizations and events alongside her family. When it comes to her passion for giving back, she credits her mother, who first introduced her to volunteering, but also all of Kenosha's volunteers who remain dedicated to making an impact in our community. To Caroline and the countless other volunteers, thank you for your hard work and for helping to bring our vision to life!
Our vision: a community where all individuals and families in Kenosha County achieve their human potential through education, income, and healthy lives.
Caroline recognizes and is grateful for her fortunate life circumstances including her two parents who helped provide her with the best education they could find. She was even above grade average for reading by the time she was in third grade, which according to Building Our Future is a key indicator to graduation success.
Looking at her health, however, Caroline has experienced some setbacks in the form of seizures. Diagnosed with absence epilepsy at age eight, Caroline had juvenile epilepsy by the time she was a teenager and currently, at the age of twenty, has generalized epilepsy. Caroline notes that she struggled a lot with her epilepsy growing up, including being afraid to tell even her best friends. When she finally told her high school class, however, nobody really cared. She has since realized that despite having epilepsy, she can continue doing what she loves — volunteering.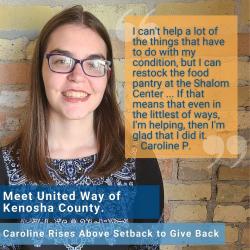 "My epilepsy is also part of the reason I volunteer," continues Caroline. "I can't help a lot of the things that have to do with my condition, but I can restock the food pantry at the Shalom Center. I can scan photos, work on FAQs, write blog posts, laminate trivia questions, and so much more at United Way. If that means that even in the littlest of ways, I'm helping, then I'm glad that I did it."
One of Caroline's favorite memories volunteering, oddly enough, happened not only during the pandemic shutdown but also just before she had a seizure. It was the holiday season, and while other cars waited in line to receive food for their families at Shalom Center, she, alongside her family, held signs with encouraging notes such as, "Thank you for being here!" and "We are grateful for you." Since it was cold, to both warm herself up and to entertain those waiting in line, Caroline started dancing her best moves and attempting to sign-spin. She notes that neither dancing or sign-spinning are her highest ranked skills, but it definitely made people waiting in their cars smile. It made them laugh. And most importantly, it made them notice the signs: Thank you. We are grateful for you.
Caroline's future looks bright as she finishes her final semester at Carthage College, where she received a full-tuition scholarship and majored in English with an emphasis on Creative Writing. She will walk in the graduation ceremony in May 2023 but finished her courseload this past December.
"There are so many people with epilepsy out there who don't have the opportunity to go to school because their epilepsy can be so bad," says Caroline. "Part of the reason why I work so hard at school is because I know others can't, and when I graduate from Carthage College, that will make this an incredible victory for me."
Her large workload did not allow her to continue volunteering at United Way during the semester, but she does know that United Way will never leave her heart. She also has plans to become a tutor at yet another United Way-funded nonprofit, the Kenosha Literacy Council (KLC).
To anyone considering becoming a volunteer at United Way or any other nonprofit, be it in Kenosha or otherwise, Caroline highly encourages it. "Volunteering is an amazing experience, whether you're a camp counselor at a church, a volunteer at a food pantry, someone manning the water table at a triathlon for those with special needs, or helping set up for the KLC's Feud on the Farm. It's not always what you expect it to be, but it's always worth it."