April 25, 2023 (Kenosha, WI) — United Way of Kenosha County (UWKC) is proud to have teamed up with Leadership Kenosha for 100 Years, 100 Volunteers: A Day of Service on Saturday, April 1, 2023. Volunteers from across Kenosha County came together in celebration of United Way's 100th anniversary of mobilizing the caring power of our community. At the event, the organization recognized and honored its Annual Celebrate UNITED Award Winners.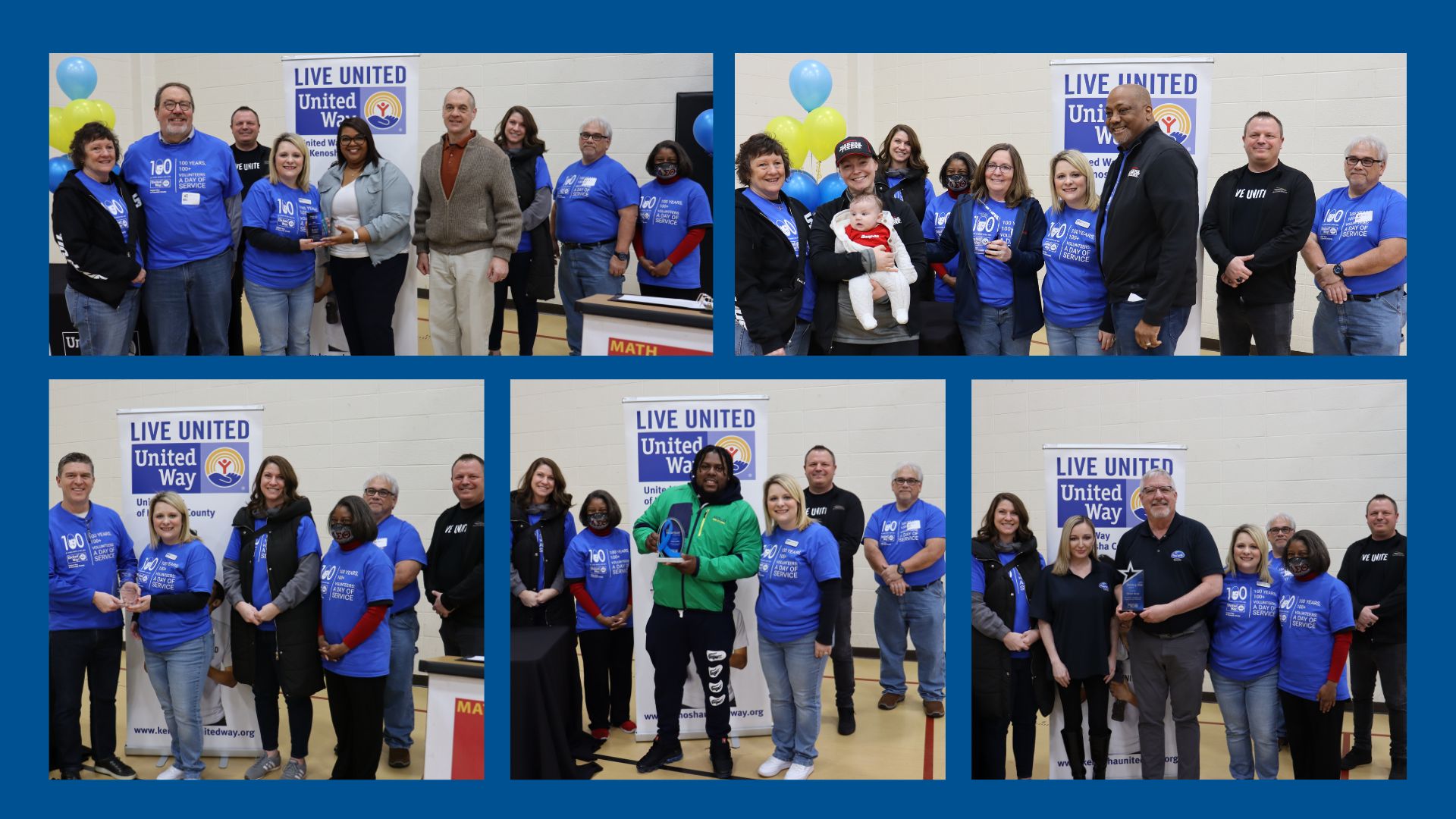 The 2023 Celebrate UNITED Award Winners are:
Volunteer Partner of the Year: Snap-On
For generous team commitment of time, support, and inspiration to Kenosha County
Volunteer Person of the Year: Kahlil Griffin, Kenosha Public Library
For generous individual commitment of time, support, and inspiration to Kenosha County
Shining Star: Ocean Spray
For initiative, enthusiasm, and support to the United Way Campaign
Live UNITED: Kenosha Unified School District
For being a longtime supporter of United Way and embodying how to Live United
Spirit of Caring: Shalom Center
For "living" the spirit of United Way of Kenosha County during the annual fundraising campaign and throughout the year as a nonprofit partner
"It is an honor to be recognized as the 2023 Volunteer Partner of the Year by the United Way of Kenosha County," says Michael Bond, Director, Community Relations at Snap-on. "We are humbled that this recognition is given as the United Way of Kenosha County celebrates a century of serving this community. For more than 100 years, the United Way of Kenosha County has evolved to meet the needs of Kenosha. Ever since those early days when the organization was known as 'Community Chest,' the associates of Snap-on have actively supported the United Way through fundraising and volunteering. We join the Kenosha community in congratulating the United Way of Kenosha County on 100 years of service, and we thank you for this esteemed recognition."
To add to the significance of the event, United Way of Kenosha County received two proclamations. The first was presented by County Executive Samantha Kerkman, proclaiming April 1, 2023 as the United Way Day of Service across Kenosha County. Next, Mayor John Antaramian, proclaimed April as Volunteer Month in Kenosha in line with National Volunteer Month. This moment is used to draw attention to the current volunteer needs and opportunities in Kenosha County and the surrounding area.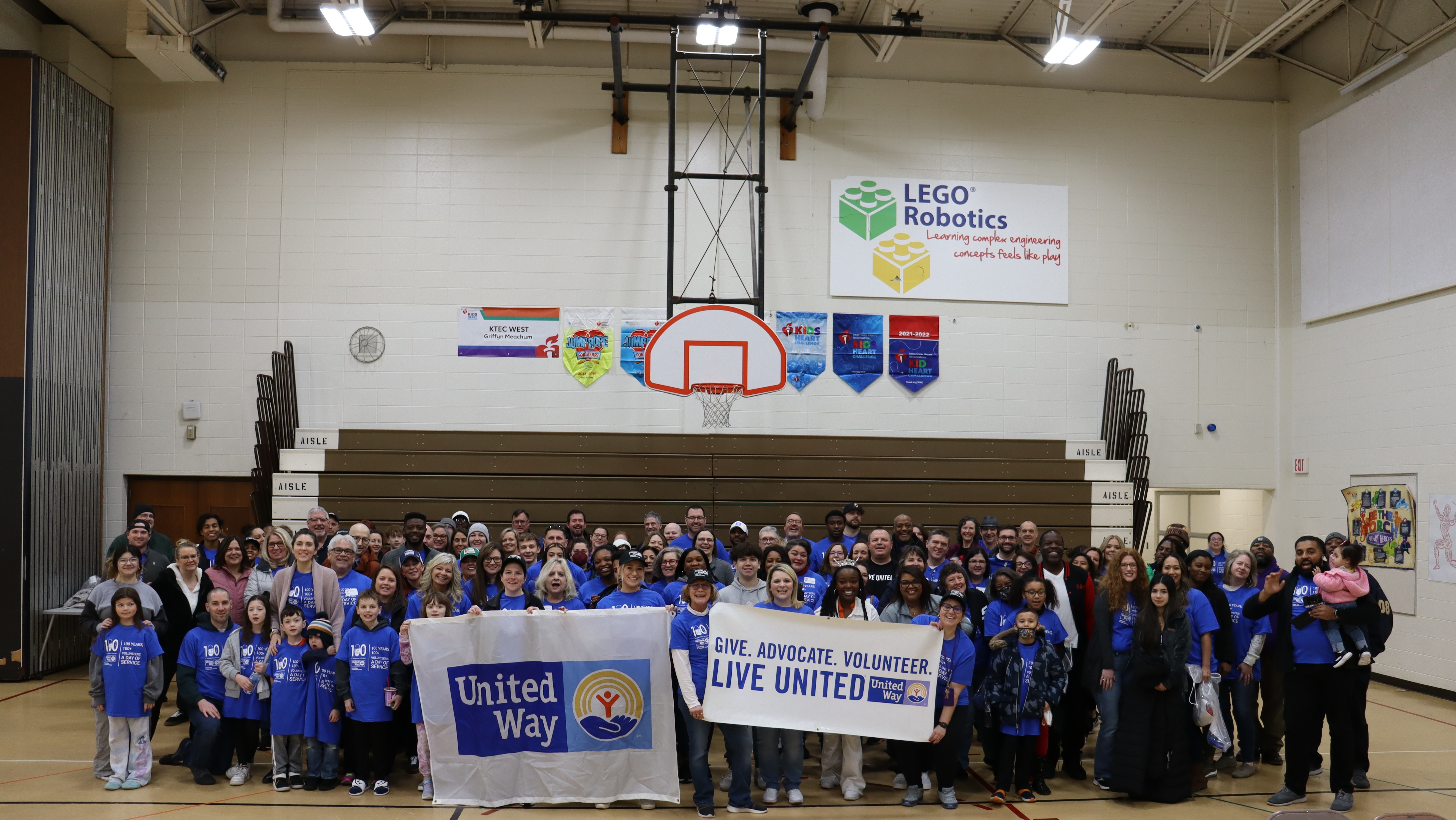 While on April 1, volunteers completed service projects in partnership with 10 local nonprofits, the volunteer need of the community is far greater. Community members can learn more about Kenosha's nonprofits and get involved on Volunteer Wisconsin — UWKC's newest volunteer database. Volunteer Wisconsin allows volunteers to connect with community agencies and get involved with the issues most important to them. Organizations will post their events and opportunities on an ongoing basis, so that community members can lend a hand whenever they can.
"It is our hope that the positive energy from 100 Years, 100+ Volunteers: A Day of Service is contagious and continues to inspire our community to get involved," says Carolynn Friesch, Chief Executive Officer at UWKC. "Our event proved that when we truly Live UNITED together, our community can thrive. As we look to celebrate United Way of Kenosha County's 100th anniversary this year, that's exactly what we set out to do — to Live UNITED and help everyone in our community thrive."
UWKC also extends its gratitude to its event sponsors: Johnson Financial Group, Educator's Credit Union, WM, Woodman's, and 4D Business Group.
Lastly, save the date for Saturday, November 11, 2023, to join in on United Way of Kenosha County's 100th Anniversary at their Centennial Jubilee: A Night to Remember. Details to follow. For more information, to volunteer, or get involved in other ways, visit: kenoshaunitedway.org or contact Marisa Markowski at mmarkowski@kenoshaunitedway.org.