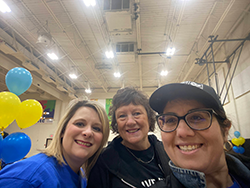 My heart is overflowing with gratitude for United Way of Kenosha County's 100 Years, 100 Volunteers: A Day of Service on Saturday, April 1st.
At the beginning of 2023, I selected "gratitude" as my word of the year. I knew that this year, more than ever, the UWKC team and I would be grateful for all of the support that we would receive during our yearlong celebration of United Way of Kenosha County's 100th anniversary. This year will be marked with opportunities to honor the legacy of the dedicated community members who came together to serve our community in 1923, forming the Community Chest Association of Kenosha which ultimately became known as United Way of Kenosha County.
April 1 marked our first major event honoring that legacy. My heart is overflowing with gratitude and love for the Kenosha community. Our community showed up to support United Way, Leadership Kenosha, and United Way's Community Investment Partners, including:
BeLEAF Survivors, Inc.,
Kenosha Area Family & Aging Services, Inc.,
Kenosha Human Development Services,
Habitat for Humanity of Kenosha,
Shalom Center,
Boys & Girls Club of Kenosha,
ELCA Outreach Center,
Sharing Center, Inc., and
Kenosha YMCA.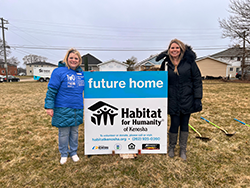 Over 150 volunteers completed 500 service hours, honoring the 100 year old United Way of Kenosha County legacy of mobilizing the caring power of our community and Living UNITED.
I am grateful to our Community Investment Partners who developed service projects, brought staff in on a Saturday, and opened their doors for us. Because of them, we had a widespread impact across the County and brought to light the great work being done by our partners, as well as the need for volunteers and many ways people can share their time and talent to make a difference right here in our own backyard.
I am grateful to the leaders of Leadership Kenosha, including Amy Kohler Garrigan and Debra Karp who provided me with the opportunity to pitch this project several months ago. I knew that in order to pull this off, the staff and I would need support. I came to Leadership Kenosha with this idea because it is a high-quality program that I knew would be able to help us bring this event from concept to reality.
I am grateful to the Leadership Kenosha Team who has been working diligently on this event since November. Rita Davis, Rose Grinder-Mondragon, Robert Moore, Ericka Bernhardt, and Lindsey Buxbaum, your hard work, dedication, and teamwork paid off. We did it! We surpassed our goal of 100 volunteers and raised enough money to cover all of the expenses. THANK YOU!
I am grateful for the United Way staff for their time and support. Marisa Markowski has been right there with me on the planning calls. She took on extra duties and helped me guide the team throughout the event planning process. Jevon Claussen was there to provide insight and pitched in to co-lead a volunteer site with Karen Fetherston from BeLEAF Survivors, Inc,.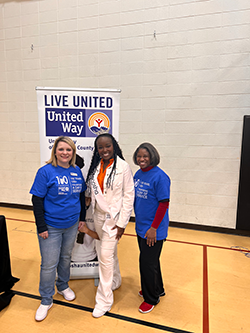 I am grateful to our sponsors who provided us with the necessary resources to make this event so successful, including:
Johnson Financial Group,
Educators Credit Union,
WM,
Woodman's Food Markets, and
4D Business Group.
As a nonprofit, we rely on the kindness and support of businesses and organizations across our community.
I am grateful to our partner Kenosha School of Technology Enhanced Curriculum (KTEC) and their principle, Dr. Angela Andersson, who didn't hesitate when we asked if we could host the volunteer reception on a Saturday at 7:45 a.m. in their gymnasium. By the way, they also had a three-day musical going on at KTEC at the same time. I am also grateful to the KTEC staff who pitched in without question to set up chairs, A/V, clean the gym, and more.
I am grateful to the County of Kenosha, Wisconsin and the City of Kenosha who honored United Way of Kenosha County, our volunteers, and National Volunteer Month (April) with proclamations.
I am grateful for our 2023 Celebrate United Award Winners. Thank you for being a part of the celebration. I am glad that we were able to honor you and your many contributions to our community. The 2023 Celebrate United Award Winners are as follows:
Volunteer Partner of the Year: Snap-on, for generous team commitment of time, support, and inspiration to Kenosha County
Volunteer Person of the Year: Kahlil Griffin, Kenosha Public Library, for generous individual commitment of time, support, and inspiration to Kenosha County Kenosha County
Shining Star Award: Dyisha Smith, Ocean Spray Cranberries, for initiative, enthusiasm, and support to the United Way Campaign
Live UNITED Award: Kenosha Unified School District, for being a longtime supporter of United Way and embodying how to Live United.
Spirit of Caring Award: Tamarra A. Coleman and Shalom Center, for "living" the spirit of United Way of Kenosha County during the annual fundraising campaign and throughout the year as a nonprofit partner.
This is what United Way and Living UNITED is all about - caring for our community, sharing our time, talent and treasure to make a positive impact, and doing all of this — TOGETHER. We are STRONGER when we come together.
Lastly, on a personal note, my dedication to serving comes from generations of service. I loved seeing all of the kiddos out there with their families. Seeing the next generation of servant leaders making an impact makes this work even more special. As a community, we are planting seeds of knowledge and love for Kenosha that will last long past our lifetimes.
My grandfather, Kenneth Johlke, was a man of humble roots and service to others. As a kid living in the Depression era times, his family could rarely afford toys, let along basic necessities. As an adult, one of the many ways he would help others was to find broken toys, fix them up, and give them to kids on Christmas. On April 1, 1985, my grandfather died unexpectedly. This date has always held a special place in my heart. I know that he is always with me, and he was with us every step of the way during 100 Years, 100+ Volunteers: A Day of Service, helping us prepare for the event. He was dedicated to serving others, and I am proud to continue his legacy.
Thank you all for being on this journey with me and the United Way of Kenosha County team. There are more great days ahead for all of us in Kenosha.
Mark your calendars for the evening of Saturday, November 11, 2023, as we culminate our yearlong centennial celebration of United Way with the Centennial Jubilee: A Night to Remember, which will feature a video of pictures and testimonials from 100 Years, 100 Volunteers: A Day of Service.
#celebrate100 #LiveUnited