365 Small businesses play a critical role in maintaining a thriving community, and their partnership is equally critical to the success of United Way of Kenosha County (UWKC). Today, we take a moment to recognize NextHome Signature Group, a small business who makes a big impact by being a part of the UWKC 365 Small Business Circle. 
Get To Know NextHome Signature Group in Kenosha
NextHome Signature Group in Kenosha, owned by Dezarrea Kindle, assists and advises clients with buying and selling real estate, as well as understanding market conditions, prices, legal requirements, and related matters. The Full-Service Real Estate company consists of full-time realtors who are dedicated to serving the residents of Southeastern Wisconsin.
To learn more about NextHome Signature Group, visit: www.dezkindle.com or contact Dezarrea Kindle directly at (262) 620-0382 for all your real estate needs.
Next Home Signature Group Makes a Big Impact
Dezarrea Kindle with NextHome Signature Group is eager to join UWKC's 365 Small Business Circle as a small business owner looking to do as much as they can to contribute to their community. Dezarrea has worn several service hats, including contributing time as a Girl Scout leader and adviser to the girls in the school district in the early years as well as volunteering in hospitals and with various community drives.
"I love our community, and I love finding ways to build and strengthen it," says Dezarrea Kindle, broker and owner at NextHome Signature Group. "To me, Living UNITED means that, together, we can make a difference, joining together to work and build our community so that everyone has a chance to thrive in it."
Additionally, Kindle is thrilled about the opportunity to connect with other like-minded business owners who love the community and want to contribute and give back. Several times a year, NextHome Signature Group teams up with local community organizations to join forces and give back. Some organizations they've partnered with in the past include Shalom Center, Sharon Kay Emmie Louise Spears, and of course, United Way of Kenosha County.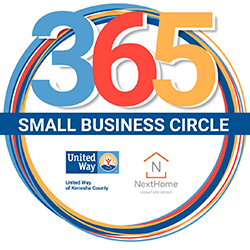 Overall, NextHome Signature Group's goal is to reach out to other businesses to join in UWKC's 365 Small Business Circle, speaking to the opportunity as an affordable contribution to make a big impact. When small businesses join forces together, the impact becomes a powerful, massive contribution to the community where we live and work in.
Become a 365 Small Business Circle Donor
United Way of Kenosha County's 365 Small Business Circle is a giving initiative aimed to make philanthropy easier and more rewarding for small businesses. For an annual gift of $365, or one dollar per day, your gift can help us make Kenosha a place where everyone can achieve their human potential. You will also have the opportunity to connect with other local business owners who are dedicated to serving the community where we all live, work and/or play. There's nothing small about your small business contribution. Give today: https://www.kenoshaunitedway.org/365-small-business-circle