Why is Reading Important?
Literacy is the foundation of all successful learning. Research shows that third grade reading proficiency is the strongest predictor of high school graduation and career success. Unfortunately, every year a disproportionate number of low income children miss this crucial milestone. This one factor, the ability to read proficiently at the end of third grade, has long term implications for individuals and for our community. Students who can't read at grade level at the end of 3rd grade are four times more likely to drop out before they graduate.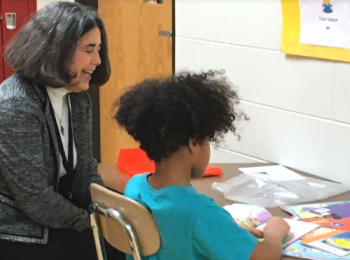 Join Us
Volunteers get results! We know that service and volunteerism work. We believe that everyone has a part to play in closing the achievement gap in Kenosha County. We believe that collaborative efforts create unlimited potential for students and our community. Readers Are Leaders tutors have varied experience, ranging from college students, to community employees, to stay at home caregivers, to retirees. No previous experience is needed. All the training and resources you need to be successful will be provided.
Readers Are Leaders is gearing up for the 2023-2024 school year. You can join in on the fun! Click here to complete the tutor interest form (or complete the designated form below). We will reach out to you with more information and at that time will confirm your availability. For questions or more information, contact Marisa Markowski, resource development manager, at mmarkowski@kenoshaunitedway.org.
In Partnership with KUSD
The Readers Are Leaders tutoring program, a United Way of Kenosha County led initiative in collaboration with Kenosha Unified School District, local businesses and community members, utilizing data provided by Building Our Future, provides young children in grades kindergarten through third grade with tutors on a regular basis to increase reading achievement in the early grades. 
In just one hour per week, Readers Are Leaders volunteers are helping  students become more confident and capable readers. 
Tutoring takes place during school hours, September/October through May.
Student Selection
Classroom teachers and school site coordinators at the Readers Are Leaders schools recommend students to participate in the Readers Are Leaders program. 
Recommended students are those approaching grade level reading proficiency, and are very likely to increase reading skills with the extra support and encouragement that the Readers Are Leaders tutors provide. 
The goal of the program is for selected students to become more confident and capable independent readers. That goal is achievable because of the many dedicated volunteer tutors in our community who have stepped forward to spend time reading with students. 
The Readers Are Leaders Program began as a three year pilot program at McKinley Elementary between 2014-2018 with an average of 65 tutors working with 45 students.
During the 2018-2019 school year, students collectively went up 764 reading levels as a result of the time volunteers spent working with students.
Entering its eighth program year, in partnership with Kenosha Unified School District, the program aims to engage 100+ tutors with students across four schools, including Brass, Forest Park, McKinley, and EBSOLA. In the last year, students and tutors read together for roughly 800 hours, and we hope that with your help we can exceed these numbers for the 2023-2024 school year. 
Since the tutoring program began, volunteers have given more than 8,500 hours to the students.
Students benefit from participation in the Readers Are Leaders program by helping students get the skills they need to succeed as life-long learners and beyond.
See what some of our students and tutors have to say about their experience:
Welcome to the Readers Are Leaders Tutor Resource Page
This page is for active Readers Are Leaders Tutors only. If you would like to become a tutor, please complete the returning tutor or new tutor application(s).
Thank you for volunteering for United Way of Kenosha County's Readers Are Leaders Tutoring Program. We have compiled a list of resources below that can be used throughout the school year. If you have any questions, please contact us at unitedway@kenoshaunitedway.org or call 262-658-4104.
Kindergarten Resources
Miscellaneous Resources
Tutor Training Session Example:
Please note - this is an example of a session with a student who is capable of reading chapter books. Not all students are capable of reading chapter books. 
What Else Can You Do To Help?
Donations are currently being sought to help continue and expand the Readers Are Leaders Tutoring program in Kenosha County.  As a nonprofit organization, we rely on local businesses and community donors to help us make a strong impact in our community.
An investment in United Way of Kenosha County's Readers Are Leaders Tutoring Program helps us to reach young children to help set them up for a path to success. Help our children be our future. Thank you for taking this opportunity into consideration.
Questions?
Please contact United Way of Kenosha County at unitedway@kenoshaunitedway.org or call 262-658-4104 for questions.